LuxCMA Webinar | Anti Tax Avoidance Directive (ATAD): Interest limitations rules – clearing the mist?
November 11, 2020 l 13h00

-

14h00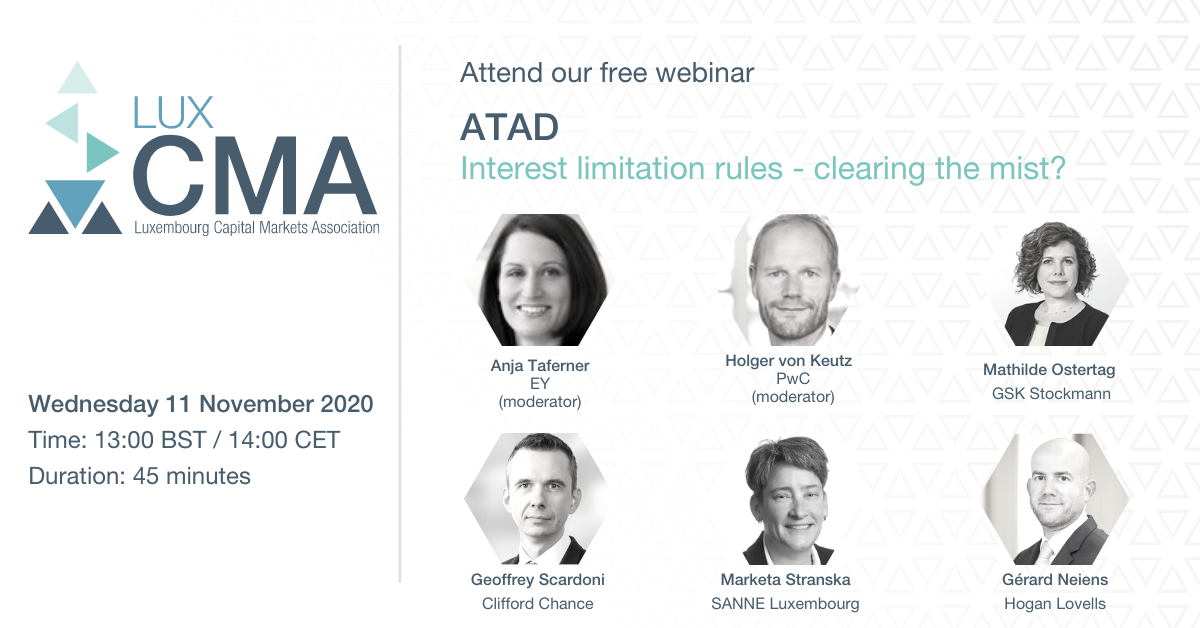 In 2019, Luxembourg introduced limitations to the #deductibility of interest expenses that also apply to securitisation companies. The rules are complex and raise many questions.
Thanks to all the energy and tremendous ongoing efforts of our dedicated task force, the #LuxCMA has recently published a technical paper (available for LuxCMA members only) on how to apply these rules in a securitisation context. During this webcast moderated by Anja Taferner, Executive Director at EY Luxembourg and Holger von Keutz, Partner, Securitisation leader PwC, members of the LuxCMA – #Securitisation & #ATAD task force went through a number of issues and positions discussed in the paper.
Our speakers were Mathilde Ostertag, Tax Local Partner at GSK Stockmann, Geoffrey Scardoni, Partner at Clifford Chance Luxembourg, Marketa Stranska, Associate Director, Private Debt and Capital Markets Sanne and Gerard Neiens, Partner at Hogan Lovells (Luxembourg).
ACCESS THE WEBINAR PRESENTATION: LuxCMA_ATAD_Webinar_11112020_V4
In case you missed it, the webinar recording is now available: