The main purpose of the Sustainable Finance Working Group is to identify opportunities and promote sustainable finance from a capital markets perspective, supporting the development and growth of sustainable finance in Luxembourg and abroad.
🎙 PODCAST l Let's talk about… Sustainable Finance
Follow us & don't miss out the group's news
Sustainable Finance is front and center for capital markets' players considerations. Be it because of recent regulatory evolutions and requirements, or more broadly as a societal matter that imposes itself to the entire financial services industry.
It is essential for LuxCMA and the Sustainable Finance WG to contribute to a good understanding of these new imperatives by its members, participate to regulatory consultations, and sharing back best market practices as well as obstacles and practical solutions in this context.
Active contribution of members to regular industry meetings, specific focus events, consultation papers and continuously updated FAQs, allow for an increased and efficient footprint of LuxCMA in the Luxembourg and European Sustainable Finance realm.
Cathrine Foldberg Møller
Simmons & Simmons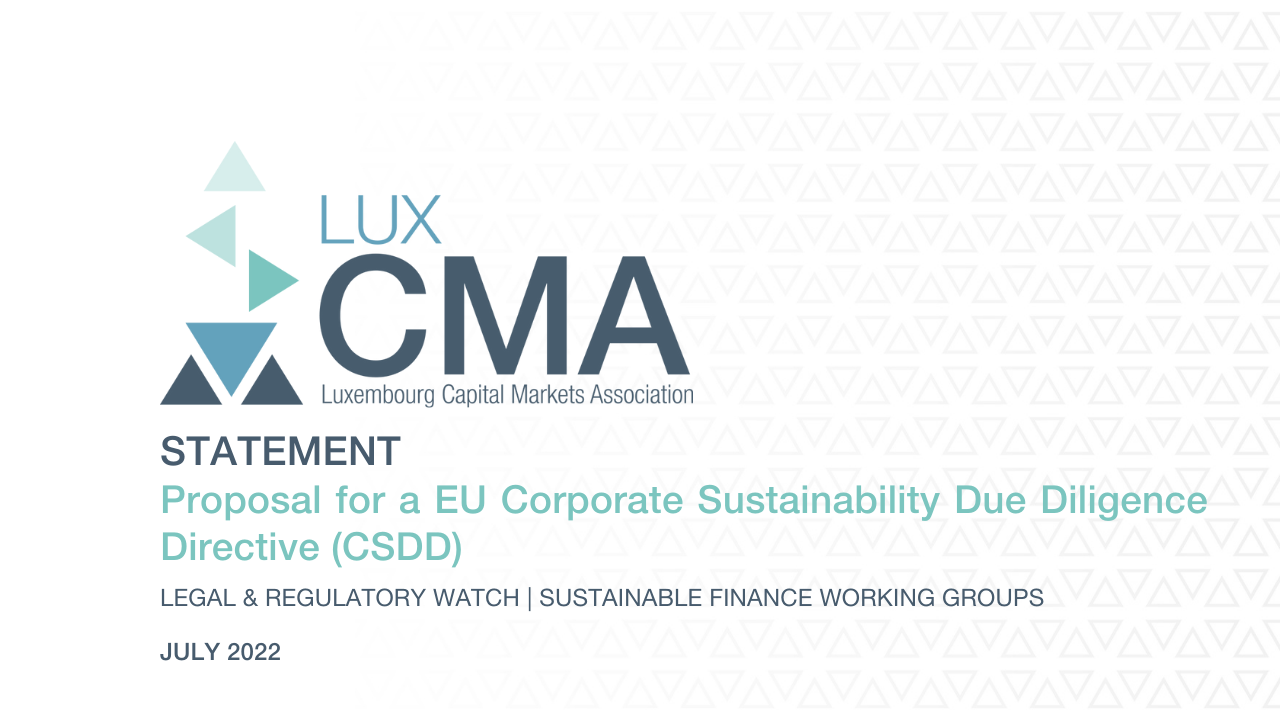 Published on 23 February 2022, the proposal for a 𝙉𝙚𝙬 𝘿𝙞𝙧𝙚𝙘𝙩𝙞𝙫𝙚 𝙤𝙣 𝘾𝙤𝙧𝙥𝙤𝙧𝙖𝙩𝙚 𝙎𝙪𝙨𝙩𝙖𝙞𝙣𝙖𝙗𝙞𝙡𝙞𝙩𝙮 𝘿𝙪𝙚 𝘿𝙞𝙡𝙞𝙜𝙚𝙣𝙘𝙚 is aiming to foster sustainable and responsible corporate behavior throughout global value chains. It provides for new due diligence obligations, tightening the existing requirements under the Luxembourg laws. Getting sustainability due diligence implemented is not going to happen overnight and a number of shortcomings need to be addressed in order for this…
As announced end October during our first webinar dedicated to sustainable finance (video recording available on section Past events of our website), congratulations to our task force Sustainable Finance for the release today of the FAQ dedicated to this topic. The FAQ will be updated on a regular basis, with additional questions, notably those that members may have asked to LuxCMA on this topic.
Listen to LuxCMA professionals and executive guests offer insights on today's most compelling business, regulatory and Capital Markets industry issues. The LuxCMA Let´s talk about podcast series provides information to help you meet today's challenges and prepare for the future.
3 questions to… Cathrine Foldberg Møller
1️⃣ Can we rely on the private sector to scale up sustainable finance?
2️⃣  What are the challenges for sustainable finance? 
3️⃣  What's the main takeway for today? 
 
Cathrine is sharing some of her thoughts with us!