Coffee Morning Meetup: The Best Practice Corners
May 11, 2023 l 9h00

-

11h00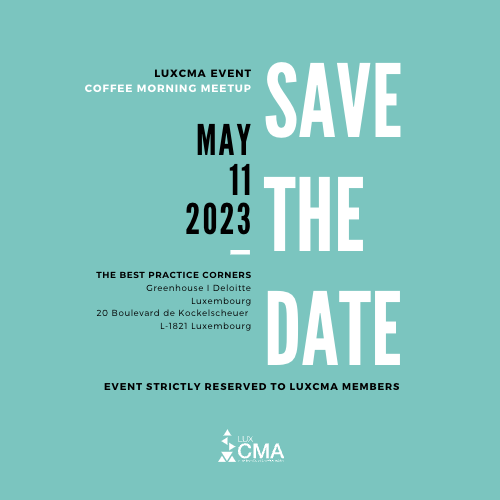 hank you to everyone who joined us this morning at Greenhouse I Deloitte Luxembourg for the first edition of our 𝗖𝗼𝗳𝗳𝗲𝗲 𝗠𝗼𝗿𝗻𝗶𝗻𝗴 𝗠𝗲𝗲𝘁𝘂𝗽:𝗧𝗵𝗲 𝗕𝗲𝘀𝘁 𝗣𝗿𝗮𝗰𝘁𝗶𝗰𝗲 𝗖𝗼𝗿𝗻𝗲𝗿𝘀!
It was in a relaxed atmosphere that our participants and experts were able to discuss and share their knowledge together during 3 x 20-minute stand-up and rotating talks in small groups around the 3 following corners:
🔹Corner #1 I Board Members Experience: Challenges, Opportunities and Threats.
🔹Corner #2 I Working Group Insights: What We Have Done and What To Expect in these two working groups?
🔹Corner #3 I Hot Takes and Headlines: Views sharing on the hot topics of the Luxembourg Capital Market industry.
💡A remarkable experience filled with valuable insights, networking, and inspiration.
Special thanks to our amazing speakers, all members of the two #LuxCMA Best Practice Working, who shared their expertise and wisdom:
Holger von Keutz I Rolf Caspers I Atif Kamal I Meenakshi Mussai-Ramassur, FCCA, BSc  I Anar Heydarov I Marketa Stranska I Arek Kwapien I Alin Marinica I Ariane Mehrshahi Marks I Iulia Gay I Jean-Bernard Spinoit and Ekaterina Volotovskaya
Stay connected and be on the lookout for future events and opportunities to learn and collaborate. Let's keep the conversation going! 💼